THE RECTAL TEMPERATURE
Details

Category: feline characteristics
Hits: 149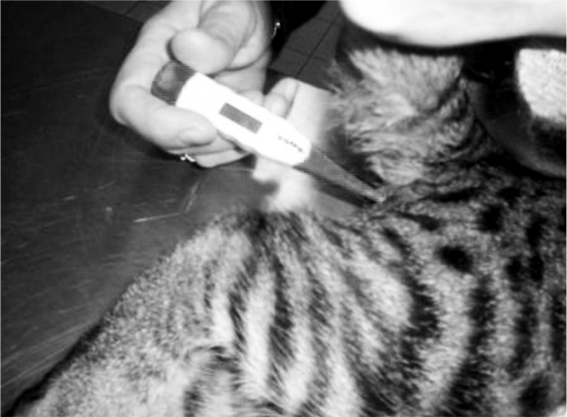 The rectal temperature: it is expressed in degrees Centigrade and is measured by inserting the thermometer (preferably prismatic) for children into the rectum for about 2 centimeters (no more than 2.5 cm) and leaving it there for a few minutes.
Before measuring the temperature, we clean the thermometer with alcohol.
To make the operation less painful, it should be lubricated with Vaseline, before inserting it into the rectal canal. You need to be very delicate and pay attention to probable and quick movements of the cat in order not to cause serious damage to the intestine and not to risk breaking the thermometer inside the intestine. It should be left for at least a minute, then the temperature can be read.
The measurement of body temperature in animals is rectal and should preferably be done on an empty stomach, never after a run and should be avoided if the animal is frightened or agitated, as this could increase, giving us an inaccurate value.
If possible, get help from someone to keep the cat still.
THE RESULT
For a cat, the ideal temperature is 38 ° C, but it can be considered normal even if it varies between 37.7 and 39 ° C
If it drops below 37.2 ° C or exceeds 39.5 ° C, you should contact your vet immediately.
WE KNOW THE PHYSIOLOGICAL PARAMETERS OF OUR CAT TO PROTECT IT