THE LYKOI: THE WOLF CAT, THE WERE CAT
Details

Category: Special and wild cats
Hits: 151
The Lykoi is a new breed of cat that resembles a werewolf. Its name derives from the Greek "wolf" and translates as "cat-wolf", although many know it as a "werewolf" cat. A cat that acts like a dog.
The first specimen was born in 2011 in Tennessee. Lycoi breeder Johnny Gobble selected domestic cats that were born with a spontaneous mutation creating the Lykoi breed. There was no human intervention. It is a cat that enjoys full health, but a gene prevents it from developing complete coverage of the hair. This is due to a genetic mutation in a short-haired domestic cat.
The Lykoi does not develop a homogeneous covering of hair which remains particularly sparse on the muzzle, around the eyes, on the nose and on the ears and also appears "bald" all over the body. During the change of the hair it can remain completely stripped for a short period of time.
Ulteriori informazioni su questo testo di originePer avere ulteriori informazioni sulla traduzione è necessario il testo di origine
Invia commenti
Riquadri laterali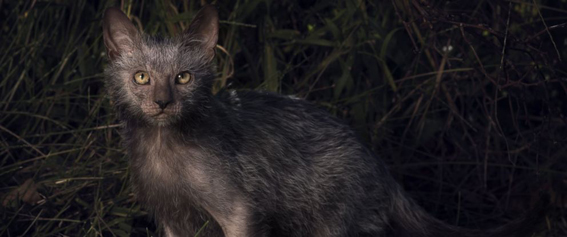 In the world there are very few specimens and only seven registered breeders. The price is around $ 2,000.
There are few and a very long list of requests.
I did not know this breed. Personally, I believe it is a mistake to select cats with genetic mutations, even if they do not pose any health problems. I find it unnatural forcing, as I think it is of all races.